Schools across England are set for new funding boost as the Prime Minister announces he will invest over £14 billion in primary and secondary education between now and 2022/23.
The funding package for 5-16 schools includes £2.6 billion for 2020/21, £4.8 billion for 21/22, and £7.1 billion for 22/23 compared to 19/20. This will bring the schools budget to £52.2bn in 22/23.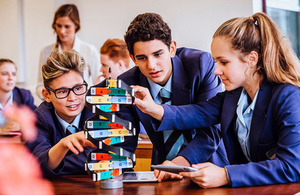 This delivers on the Prime Minister's pledge when entering Downing Street to increase school funding by £4.6bn above inflation, levelling up education funding and giving all young people the same opportunities to succeed – regardless of where they grow up or go to school.
As part of this, every secondary school will receive a minimum of £5,000 per pupil next year, with every primary school getting a minimum of £4,000 from 2021/22.
The deal includes £700 million extra for children with Special Educational Needs and Disabilities (SEND) in 2020/21, so every pupil can access the education that is right for them, and none are held back from reaching their potential.
The funding will:
Ensure that per-pupil funding for all schools can rise at least in line with inflation
Progress the implementation of our National Funding Formula, delivering promised gains in full for areas which have been historically under-funded.
The funding boost comes on top of a near £1.5 billion each year to continue to fund additional pension costs for teachers.
Schools will also continue to benefit from government support to ensure they can make the most of every pound of their budgets, following the launch of the Department for Education's School Resource Management Strategy last year.
This ranges from a free-to-use vacancy service to recruit teachers, to expert advisers who provide tailored support to individual schools that need it.
This news has been well received by schools and is considered long overdue.
To find out more visit Gov.uk
Photo: Quince Creative